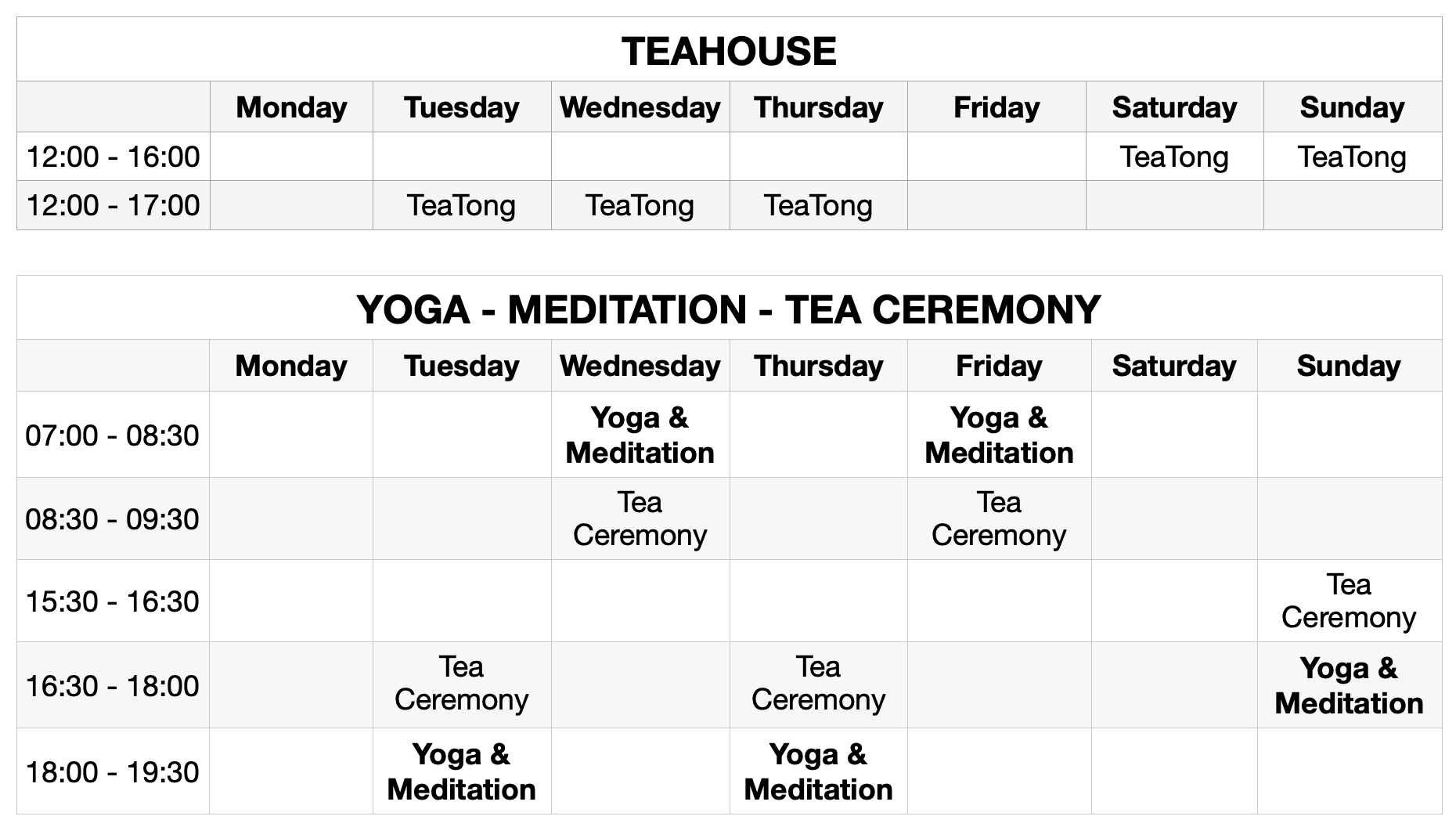 SUMMER SCHEDULE 2022
Until the 31st of August, sessions will be given according to the schedule below. All Yoga & Meditation Sessions are 90 minutes long and include asana and bodywork as well as mudras, meditation, bandha and breathing techniques. Theory and Q&A are separated from the practical sessions in the meditationhall and is elaborated upon during the 45 minute long tea ceremonies in the teahouse for those interested. 
INITIATION If you have not practiced with Daniel before you need to take a private class before you can join his weekly sessions. The private class is a two hour initiation into the ancient lineage and tradition that Daniel found in the high Himalayas more than two decades ago. During the initiation you will establish the connection needed to follow Daniel into the deeper states of consciousness that he share during his sessions. After the initiation anyone can join and benefit. Without it nobody can.
The fee for the initiation is 1000kr (weekdays) or 1200kr (weekends.) During the initiation you get 30% discount on any card that you choose to invest in. Initiation are not given unless you invest in a card. There can be a maximum 3 participants in a initiation. If you have any questions, or wish to book your initiation, kindly text Daniel on 0738 – 42 32 73 and he will get back to you as soon as possible.
PRICES
Drop In                            250KR
1 Month Unlimited     1000KR
3 Months Unlimited   2750KR
10Times/Semester     1800KR
All fees are paid in cash at the studio, by Swish (123 34 26 012) or Bank Giro (5645-2022) We do not take cards. Receipts are sent by email after payment has been received.
ALWAYS BOOK your session before coming to a session. Space is limited and Daniel need to know who is coming to prepare accordingly. Bookings are only accepted by text to 0738 – 42 32 73, or when you are in the studio, as Daniel can not keep tabs on the ocean of apps, emails and messengers available to keep the books updated.
Book at least 3 hours before a session. When your booking is accepted you will get a reaction to your text. If the class is full or cancelled you will get a reply. If you can't come then cancel your booking, so someone else can take your place, at least 3 hours in advance. If the session is full, and someone is denied a seat while you don't show, you will be charged 100kr.
DETAILS All sessions are held at TeaTong (Stora Kvarngatan 34) behind Caroli in Malmö. Arrive 30 – 15 minutes before so we can start on time without stress. The doors are locked 5 minutes before the session begin. After the session you are welcome to hang around the studio/teahouse for 30 minutes.
CONTACT
Tea Tong
Stora Kvarngatan 34
211 29 Malmö
info@yogadaniel.com
0738 – 42 32 73